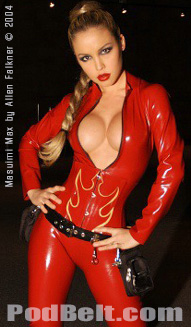 Masuimi Max shows off her
PodBelt @ BondCon 2004
Photo by Allen Faulkner
Latex by Vex
Click here to order!
///////////////////////\\\\\\\\\\\\\\\\\\\\\\\
SintheteX PodBelt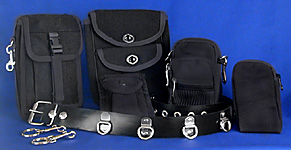 The perfect functional fashion accessory: portable pockets. Adds style and cargo space to almost anything you wear. These rock: now you don't have to carry a bag and worry about it all the time. We wear our PodBelts every day and they're great for going out... even streamlined enough to wear dancing! They're a stylish alternative to fanny packs (that's bum bags for you UK folk), or other kinds of typical waist packs and utility belts.
All PodBelts are made of 1.5" wide sturdy high density Nitrile rubber (100% vegan). Hardware on both Belts and Pods is nickel plated brass and steel. Attachments hang from the belt using "swivel snaps": quick on and off spring action clips to keep everything securely attached. The buckle is even detachable, so you can easily swap it with most any 1.5" buckle.
The system is completely modular. The Basic Set includes one detachable Pod (your choice of either small, glasses, or large) and one key/utility clip. The Deluxe Set (shown above) includes five Pods: all 3 sizes above plus 2 additional (a multi pocket organizer Pod and a medium camera/phone case Pod) and two key/utility clips. Additional Pods in any size can be added separately to either set. Design your own system for complete flexibility and adapt your belt on the fly to suit any moment.
Buy a PodBelt Now!
///////////////////////\\\\\\\\\\\\\\\\\\\\\\\
Mutaytor
drummer
Brady
lives in his PodBelt @
BM '04
Photo by
Josh Reiss